by RJ Palacio
3 stars - Not as good as the first one, but still had good moments.
The Misfits
by
James Howe
My rating:
3 of 5 stars
The Misfits
is another book more targeted to the middle school age group.
It features the gang of five - Bobby, Skeezie, Addy, and Joe (yep, the name choice is deliberate.) The group is a bit like the Breakfast Club. There's the overweight tie salesman, the sensitive rebel, the know-it-all, and the gay kid. Class elections are something that we see time and time again, especially in popular media, so it's no surprise that these 4 kids decide to form their own party (despite some objections from the school about elections being a two-party system.) They start out as the Freedom Party, but make a better choice when they evolve into the No-Name Party. There's an anti-bullying message that is most certainly heartfelt and at it's most genuine during Bobby's final speech.
What I didn't care for in this book was the teacher and principal. Both Ms. Wyman and Mr. Kiley irritated me, especially in the way they treated Addy. I thought they contributed to the problem and they were not very supportive side characters.
View all my reviews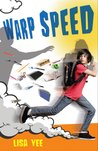 Warp Speed
by
Lisa Yee
My rating:
2 of 5 stars
For a book published in 2011, I was surprised that fans of
Star Trek
,
Star Wars
, and
Batman
were still sterotypically placed on the nerd/geek scale in this book. Film directors Christopher Nolan and JJ Abrams have helped increase the popularity of these genres. Plus, it could be said that
The Big Bang Theory
and other mainstream media have made "geek" far more trendy.
That being said, I'm not 12 years old anymore and this book is intended for middle schoolers. The reason I picked this book up was because a friend of mine was searching for books with non-traditional main characters. Marley certainly had unique qualities that lend well to the main character role (i.e. finding your talents, staying true to yourself), but I actually found myself drawn more to Max (a tomboy character in AV Club) and Ramen (Marley's "best friend").
The big issue presented by this book is bullying. The biggest bullies were Digger and the Gorn. Digger bullied Marley into doing his homework for him. The Gorn just wanted to beat Marley up...a lot. I had problems with the way both bullies were written, in particular, The Gorn aka Three Boys who just wanted to beat everyone up. I felt the ending forced them to back down, but I don't think they learned anything.
Not my favorite book, but that's okay. Someone else might like it.
View all my reviews
Holes
by
Louis Sachar
My rating:
4 of 5 stars
I read and enjoyed this book in my youth and I also found myself enjoying it as a thirty-something. Louis Sachar was always one of my favorite authors. I enjoy his sense of humor, the characters he creates, and his life commentaries.
Holes
does a great job of blending past, present, and future into a highly readable story. I enjoy the mystery and the adventure. Very fun read and fun to revisit.
View all my reviews
Auggie & Me: Three Wonder Stories