Talking as Fast as I Can: From Gilmore Girls to Gilmore Girls, and Everything in Between
by
Lauren Graham
My rating:
4 of 5 stars
Lauren Graham is a unique, endearing, and funny voice that I thought translated well into the written word. I enjoyed her essays, especially the ones about
Gilmore Girls
because...come on. She talks about
Parenthood
too, and the adorable fiction novel she wrote that I read last year. She talks about her childhood, her first jobs, her first performances. She talks about her relationship with Peter.
Definitely a great way to start off the year. :)
View all my reviews
Glass Sword
by
Victoria Aveyard
My rating:
3 of 5 stars
Okay... I'm going to do my best to make this a spoiler-free review, even though that task feels slightly daunting.
This book picks up exactly where "Red Queen" ended. Mare and co. are on the run from King Maven with a plan to search for the other "NewBloods." (i.e. people with erm...undiscovered abilities.) The first half of the book was slow to get into, but the action in the second half and twist at the end helped pick the pace up. There are also a lot of new characters to remember.
I didn't really care for Mare in this book. She had this cold, calculating, almost cruel persona. I know she was turned from commoner to princess to rebel leader; but it was frustrating to see her try and shut her emotions down. When will it be okay for YA females in dystopian world to feel their feelings? Feelings can make you stronger!
I liked getting to know Farley and Shade more in this book, but they are still side-lined here. I guess Farley has her own novella, but I'm probably not going to read it. I'm kinda burned out on that concept after Danielle Paige released seventy-hundred of them for her "Dorothy Must Die" series.
I love Maven as a villain and was disappointed that he wasn't in more of the book. I'm hopeful he appears more in the 3rd book.
I feel like I should note that there are several character death. One affected me more than the others. I won't say which.
I'm on the hold list for the 3rd book at the library. It comes out next month so I'm glad I paced my introduction to this series well (even if there's a 4th one coming out in 2018. *sigh*)
View all my reviews
(
3-7
Collapse
)
1. Attack on Titan, Volume 11 - Hajime Isayama
2. Very Good Lives: The Fringe Benefits of Failure and the Importance of Imagination - J.K. Rowling
3. The God Machine - Chandra Free
4. Room - Emma Donoghue
5. Unhinged (Home Repair is Homicide,
#6
) - Sarah Graves
6. It Ended Badly: Thirteen of the Worst Breakups in History - Jennifer Wright
7. Death Note, Vol. 1: Boredom (Death Note,
#1
) - Tsugumi Ōba
8. The Devil's Bed - William Kent Krueger
9. Every Fifteen Minutes - Lisa Scottoline
10. Jaws - Peter Benchley
11. The Grownup - Gillian Flynn
12. Doll Bones - Holly Black
13. Fixer (The Ustari Cycle,
#0
.5) - Jeff Somers
14. Witchblade Takeru Manga Collection - Yasuko Kobayashi
15. Showman Killer: Heartless Hero (Showman Killer
#1
) - Alejandro Jodorowsky
16. The Joker - Brian Azzarello
17. Soul Eater, Vol. 01 (Soul Eater,
#1
) - Atsushi Ohkubo
18. Harley Quinn, Vol. 1: Hot in the City - Amanda Conner
19. Orphan X - Greg Hurwitz
20. Midnight Sun - Jo Nesbø
21. Gideon's Corpse - Douglas Preston
22. The Crossing - Michael Connelly
23. Death Note, Vol. 2: Confluence (Death Note,
#2
) - Tsugumi Ōba
24. Death Note, Vol. 3: Hard Run (Death Note,
#3
) - Tsugumi Ōba
25. Death Note, Vol. 4: Love (Death Note,
#4
) - Tsugumi Ōba
26. Death Note, Vol. 5: Whiteout (Death Note,
#5
) - Tsugumi Ōba
27. Death Note, Vol. 6: Give-and-Take (Death Note,
#6
) - Tsugumi Ōba
28. Death Note, Vol. 7: Zero (Death Note,
#7
) - Tsugumi Ōba
29. Curious Minds - Janet Evanovich
My top two choices were
Room
and
It Ended Badly
. My least favorites were
Harley Quinn
and
The God Machine
. These graphic novels were a waste of time and the only saving grace about them were the pictures in my opinion. Just go ahead and avoid them cause the story was either all over the place or just uninteresting.
So this was the first year since I made the decision to read more that I actually failed to read 50 Books but Im okay cause I know I can do better next year. PS I got a new job so yay!
Looking at all your reviews means I need to get refocused and start reading again. I defiantly want to check your picks: 'Wonder', 'Written In Fire' and 'Why Not Me?'.

Carry On
by
Rainbow Rowell
My rating:
3 of 5 stars
Carry On
is set in the world created by fictional author Gemma T. Leslie. We were sort of introduced to Simon Snow, Baz, and the other characters in this series during Rowell's book
Fangirl.
In
Fangirl
, it always felt a bit like Simon Snow's novels were supposed to be a mimic of the
Harry Potter
books - magical school, powerful wizard, powerful wizard's mentor/Headmaster, smart girl, and the antagonistic-but-sort-of-good hearted rival.
We still see some of those similarities in
Carry On
, for example- the Headmaster always sends Simon back to the Normal world each summer. Rowell is able to invent some new plot twists that kept the end of the book particularly exciting. I will agree with other reviewers that the first 150 pages or so were a slog. There's world-building, but there's also a bit of confusion because this book is written during Simon Snow's last year at Watford. I also didn't care for the multiple POV changes that were all written in first person language.
Not a bad book, just not the strong showing I was expecting after reading
Fangirl
.
View all my reviews

The Straw King
by
Danielle Paige
My rating:
3 of 5 stars
This is definitely one of the better prequel novellas in the
Dorothy Must Die
series, especially because I recall feeling super annoyed by the Tin Man in
Heart of Tin.
I did find the shortening of Scarecrow's name to "Scare" a bit annoying, but much less so.
This novella takes place after the Wizard has placed Scarecrow on the throne of Oz. Scarecrow is far more interested in books than he is in ruling so it's not long before Jinjur and her gang of biker girl warriors show up to overthrow him. Jinjur is an awful leader, choosing violence and mayhem as her way of shaking things up. The real villain of course is the Good Witch of the North. We get to see Glinda starting to put actions in motion and we get to see a little distrust form between Glinda and the Scarecrow.
Only one more novella and one more novel to go! The end is in sight.
View all my reviews
Ruler of Beasts
by
Danielle Paige
My rating:
2 of 5 stars
I liked the relationship between the Lion and Ozma, but wasn't impressed with this one overall. I think there might be such a thing as too many prequels.
View all my reviews
by RJ Palacio
3 stars - Not as good as the first one, but still had good moments.
The Misfits
by
James Howe
My rating:
3 of 5 stars
The Misfits
is another book more targeted to the middle school age group.
It features the gang of five - Bobby, Skeezie, Addy, and Joe (yep, the name choice is deliberate.) The group is a bit like the Breakfast Club. There's the overweight tie salesman, the sensitive rebel, the know-it-all, and the gay kid. Class elections are something that we see time and time again, especially in popular media, so it's no surprise that these 4 kids decide to form their own party (despite some objections from the school about elections being a two-party system.) They start out as the Freedom Party, but make a better choice when they evolve into the No-Name Party. There's an anti-bullying message that is most certainly heartfelt and at it's most genuine during Bobby's final speech.
What I didn't care for in this book was the teacher and principal. Both Ms. Wyman and Mr. Kiley irritated me, especially in the way they treated Addy. I thought they contributed to the problem and they were not very supportive side characters.
View all my reviews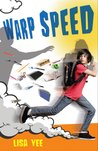 Warp Speed
by
Lisa Yee
My rating:
2 of 5 stars
For a book published in 2011, I was surprised that fans of
Star Trek
,
Star Wars
, and
Batman
were still sterotypically placed on the nerd/geek scale in this book. Film directors Christopher Nolan and JJ Abrams have helped increase the popularity of these genres. Plus, it could be said that
The Big Bang Theory
and other mainstream media have made "geek" far more trendy.
That being said, I'm not 12 years old anymore and this book is intended for middle schoolers. The reason I picked this book up was because a friend of mine was searching for books with non-traditional main characters. Marley certainly had unique qualities that lend well to the main character role (i.e. finding your talents, staying true to yourself), but I actually found myself drawn more to Max (a tomboy character in AV Club) and Ramen (Marley's "best friend").
The big issue presented by this book is bullying. The biggest bullies were Digger and the Gorn. Digger bullied Marley into doing his homework for him. The Gorn just wanted to beat Marley up...a lot. I had problems with the way both bullies were written, in particular, The Gorn aka Three Boys who just wanted to beat everyone up. I felt the ending forced them to back down, but I don't think they learned anything.
Not my favorite book, but that's okay. Someone else might like it.
View all my reviews
Holes
by
Louis Sachar
My rating:
4 of 5 stars
I read and enjoyed this book in my youth and I also found myself enjoying it as a thirty-something. Louis Sachar was always one of my favorite authors. I enjoy his sense of humor, the characters he creates, and his life commentaries.
Holes
does a great job of blending past, present, and future into a highly readable story. I enjoy the mystery and the adventure. Very fun read and fun to revisit.
View all my reviews
Auggie & Me: Three Wonder Stories
Loser
by
Jerry Spinelli
My rating:
4 of 5 stars
Loser
by Jerry Spinelli is about a boy named Donald Zinkoff.
I assume it was intended for a younger audience due to the simple narrative, but as an adult, I still enjoyed it. The book is a character study about Donald's life from first grade to middle school. It's a bit of sad book because of the way others treat him and also the bit before the end (no spoilers.)
It's also a lovely story about a uniquely special boy who didn't quite fit in with the of his peers. It's about a boy who dreams, a boy who considers other people around him, a boy who believes in himself (even if no one else does.)
I'm definitely glad I gave this one a chance.
View all my reviews
Wonder
by
R.J. Palacio
My rating:
4 of 5 stars
August Pullman is different. He was born with severe facial abnormalities that affect the way people perceive him. His parents have primarily home-schooled him, but this story introduces to August at the cusp of transition. He's going to start 5th grade at Beecher Prep.
This is a very sweet, loving story about learning to be kind and courageous while navigating the trials and tribulations of pre-middle school. We all know that kids can be mean. We all know that parents can be mean too. This book has six different points of view (August, Summer, Jack, Via, Miranda, and Via's boyfriend.) Each character brings a new depth to the story and I thought their voices were clear and distinct.
I think this would be a great recommendation to any pre-teen who's struggling to fit in.
View all my reviews
Written in Fire
by
Marcus Sakey
My rating:
5 of 5 stars
Written in Fire
is the third and final book in the incredible "Brilliance" trilogy.
I've been waiting (im)patiently for the arrival of this book since I finished Book
#2
way back in 2014 and it did not disappoint me. This book is jam-packed with action, thrills, tension, politics, romance, and more. I enjoyed returning the world of Cooper, Shannon, Natalie, Quinn, Millie, and the Epsteins. I clenched my teeth at the return of Soren, Owen Leahy, and John Smith. I felt uncertain about the men that formed the New Sons of Liberty.
This series is about a world on edge. It's about an American population dealing with a small percentage of people (the Brilliants) that they do not fully understand. If that feels eerily similar to our current political landscape, I don't think you would be wrong.
It was a hard book to put down and I'm pleased with the way Sakey wrapped things up. Yes, he left a hanging thread or two behind, but I don't mind that. Why? Because it gives my imagination room to fill in the gaps.
View all my reviews
Why Not Me?
by
Mindy Kaling
My rating:
4 of 5 stars
Mindy Kaling is adorable.
She's funny, charming, and knows how to set a good pace with her essays and this novel as a whole. Mindy injects this book with heart, with substance, and a certain je ne sais quoi that elevates it a hair higher than her last book (
Is Everyone Hanging Out Without Me?
)
I love that Mindy is honest about her body issues, her opinions on weddings (and being in them), and her genuine love for the parents who raised her.
I definitely appreciated her insights and her laugh out loud moments.
Mindy, you're amaze-balls and if you write another book, I'll happily make it a priority on my to-read list.
View all my reviews
Theater Geek: The Real Life Drama of a Summer at Stagedoor Manor
by
Mickey Rapkin
My rating:
4 of 5 stars
3 1/2 Stars.
I bought this book back in 2013 as a set with Mickey Rapkin's other book
Pitch Perfect: The Quest for Collegiate A Capella Glory.
After feeling disappointed with
Pitch Perfect
(especially considering how much I love the movies), I was reluctant to put this book near the top of my to-read list. This year, I decided I'd put enough distance between the two books to give it a shot.
The best parts of this book were the times when Mickey was focusing on the camp and the campers that were there in 2009. It was fine and dandy that he felt the need to name-drop celebrities that had also been to the camp, but I definitely cared more about the three kids he was following around for three weeks.
It was interesting to learn about the history of the camp and the process these campers go through to learn their parts for a full-length musical in just three weeks. My favorite was probably Rachael.
(view spoiler)
[I felt awful for her when she got sick and I was amazed that she was able to get up on her feet and bring Ms. Lovett to life. (hide spoiler)]
I definitely preferred this one to
Pitch Perfect
the book. It was more well-rounded and the pacing was much better.
View all my reviews
Stories from the Early Morning
by
Thomas Zachek
My rating:
4 of 5 stars
This collection of short stories was written by my high school English teacher and I took great pleasure in reading the words within. There was a unique collection of stories ranging from an Irish love story to a
Twilight Zone
-esque space tale to a man reuniting with his first love in a coffee shop.
The first story in this collection was set in an era I was not born into, but that did not preclude me from enjoying it nor did it stop me from shedding a few tears at the end. I'm thankful that my dad introduced me to Buddy Holly, Ritchie Valens, and the Big Bopper because that helped me understand the story more. "Al's Barbecue," was one of my favorite stories in the bunch. It was amusing and clever. "Bed, Breakfast, and Beyond" was my other favorite. I enjoyed the mystery of the Bed and Breakfast and I was glad no one got hurt.
Many thanks to Mr. Zachek for cluing me into this book's existence. I appreciated it.
View all my reviews
Impossible: The Original Trilogy
by
Julia Sykes
My rating:
3 of 5 stars
Impossible: The Original Trilogy
is made up of three short novellas: "Monster," "Traitor," and "Avenger." All three are meant to be read as one continuous story so I'm treating this book that way.
The first chapter opens with an abduction. Dr. Claudia Ellers is forced at gunpoint to help out a man (Sean) who has been shot. Sean and the abuctor (Bradley) are members of an Irish gang called the Westies. They're mostly into drug trafficking, threats, and
(view spoiler)
[kidnapping Claudia over and over again.

Claudia falls in love with Sean in a Stockholm Syndrome kind of way. Also, with any kind of love story these days, both Claudia and Sean have some deep-seated emotional issues that affect their ability to connect and communicate with each other.

My main reaction to this book was that it was okay. There were some pretty hot scenes between Claudia and Sean and there were few suspenseful moments (not edge-of-your-seat thrills, more bite-your-lip-in-worry). I was glad, though, that the story of Claudia and Sean felt wrapped up. I don't think I'm in a hurry to read the rest of the Impossible novels. (hide spoiler)]
View all my reviews
Attack on Titan, Vol. 11 by Hajime Isayama

My rating: 3 of 5 stars

Even though I read it last year I decided to re-read it because I forgot what happened in it.

In this volume TitanErin is going at it with the Colossus Titan (Bertolt) and the Armored Titan (Reiner). He eventually looses and is carried away with an injured Ymir to the titan forest inside Wall Maria.




Unhinged by Sarah Graves

My rating: 3 of 5 stars

Though this is book 6 in the Home Repair is Homicide series I'm assuming all are standalones as I never read any of the other books but didn't necessarily feel like I was missing crucial backstory.

In my opinion is had a weird beginning as Jacobia (Jake) Tiptree is doing home repairs with her and her best friend Ellie when she falls off a ladder and concludes that the mysterious disappearance of Harriet Hollingsworth--Eastport, Maine's snoopiest resident is that of foul play.
Like an episode of Murder She Wrote, Jake with sidekick Ellie take it amongst themselves to figure out who done it and why. For what its worth this story makes for an interesting read as it many twist & turns and revelations.

Some of the downsides were the fact she was putting up with her ex-husband rude ways and how repeatedly descriptive she was about things that annoyed her.



It Ended Badly: Thirteen of the Worst Breakups in History by Jennifer Wright

My rating: 4 of 5 stars

It's kind of cheesy by my takeaway from this was even if I'm afraid to love for fear of it ending going through with the process so to speak makes me brave and who knows I may have a story that makes it into someone's book one day. Probably not but I can dream.

Sidenote: I know my review to this books kinda sucks so here are some updates I made while reading it. It contains some spoilers but... oh well.
[
Spoiler (click to open)
]


My response to a rhetorical question: The reason you don't currently see people sending their ex-lover hunks of bloodstained pubic hair is in parts a result of the popularity of laser hair removal."

"It seems to me Ruskin was attracted to very young girls thus he couldn't bring himself to consumate things because as a teenager she was too old for him."

"One of the biggest regrets I may have was not being able to witness the spectacle that was Oskar Kokoschka. Just think how awesome it would be with today's advancements in Sex Doll manufacturing and Social Media inclusion."

"I appreciate the Spoiler Alert about the Mad Men character and am only slightly annoyed with myself for having ignored it. I probably wasn't gonna get to watching it anyhow."